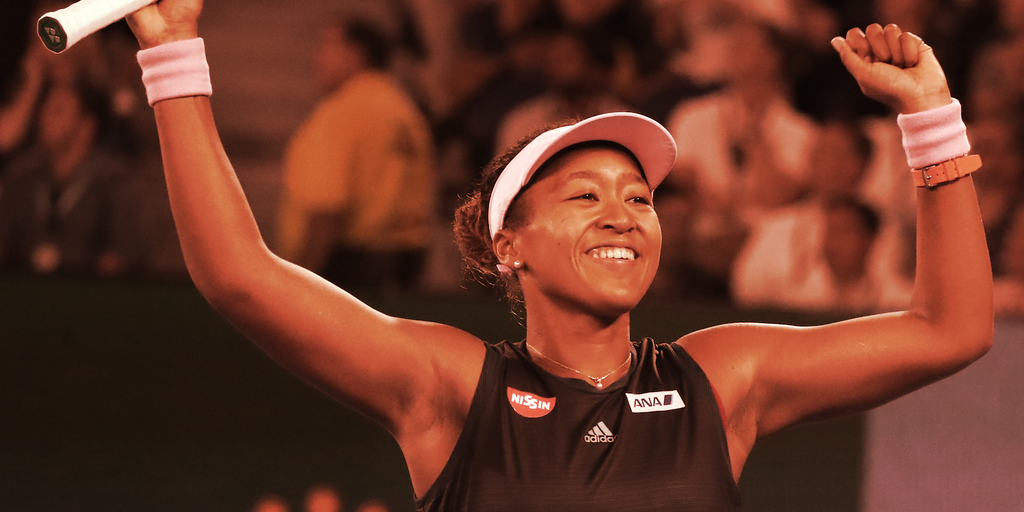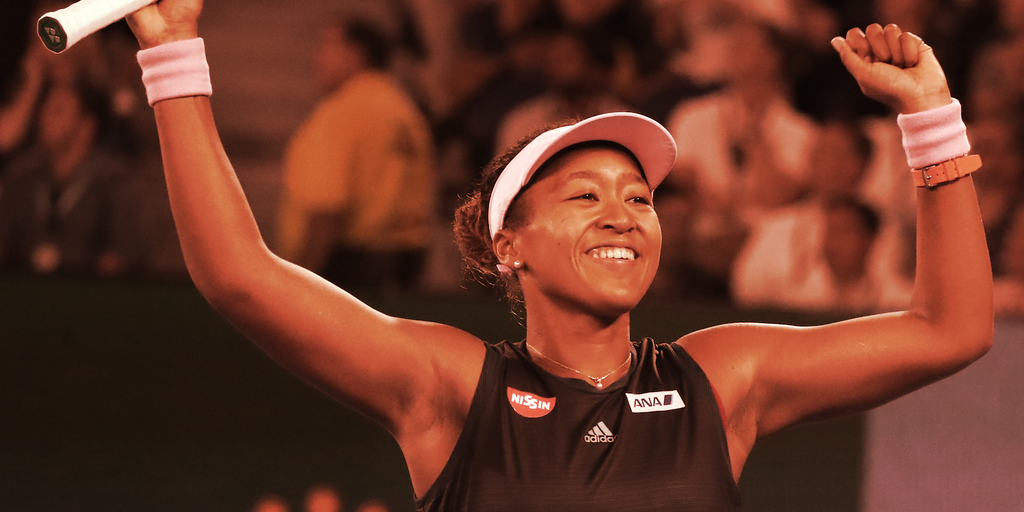 Naomi Osaka has already dominated the tennis world, racking up four Grand Slam singles titles over the last three years and achieving the rank of the world's top women's tennis player. Now she's potentially looking for success in another field: cryptocurrency investing.
Osaka is considering investing in crypto, and she told Bloomberg that her interest was piqued by Dogecoin, the popular meme coin. According to the story, Osaka's agent pitched her the idea of investing in cryptocurrency, but she had already seen some of the social media buzz around Dogecoin. She's reportedly "exploring" the space now.
"I was actually just talking with my agent about cryptocurrencies," said Osaka. "I know that online, everything is getting bigger. I remember reading about Dogecoin … there's going to be something new and interesting that's going to pop up."
Osaka already has one foot in the crypto industry through NFT collectibles. An NFT represents a deed of ownership for a digital item, whether it's an image, video file, interactive video game item, or something else entirely. The wider market surged to $2.5 billion worth of trading volume in the first half of 2021, and has apparently posted even larger figures since: NFT marketplace OpenSea alone has surpassed $3 billion of volume so far in August alone.
Back in April, Osaka released a series of NFT collectibles that were designed by her sister Mari Osaka, a retired tennis pro. The sales generated $600,000 to benefit Naomi Osaka's Play Academy foundation, and one of the NFTs—which was won in a raffle for just $5—was recently listed on a secondary marketplace with an asking price of $200,000.
Last week, Autograph.io—the sports-centric NFT startup co-founded by NFL quarterback Tom Brady—launched a series of Naomi Osaka NFT collectibles via the DraftKings Marketplace. The NFTs ranged in price between $12 and $1,500 apiece and completely sold out. Some "Ruby Signed" NFTs, originally sold for $1,500 each, are now listed on DraftKings' secondary marketplace starting at $350,000 apiece.
Don't miss out on the chance to grab one of my first NFTs Autograph Premier Preseason Access Passes drop today at 3PM ET: https://t.co/xO2J34D5Gu pic.twitter.com/HppYN63775

— NaomiOsaka大坂なおみ (@naomiosaka) August 25, 2021
Autograph has already released NFT collectibles from Brady and NHL legend Wayne Gretzky, and today debuted the first NFTs from Olympic gymnast Simone Biles. NFTs featuring retired New York Yankees star Derek Jeter will be released starting September 7.
Sports collectibles have been a key part of the wider NFT market boom. Dapper Labs' NBA Top Shot platform helped introduce digital collectibles to a wider audience this spring, and has racked up $703 million worth of trading volume since launching last year, according to CryptoSlam. Last week, the platform added NFTs based on the WNBA women's league for the first time. Popular athletes such as NFL stars Rob Gronkowski and Patrick Mahomes have also released their own individual NFT collections.
Osaka's Autograph NFT collectibles released alongside the current 2021 U.S. Open, one of the four major annual tournaments of the tennis world. The U.S. Open just launched its own NFT collectibles developed in partnership with VaynerNFT, the consultancy firm created by investor and NFT enthusiast Gary Vaynerchuk. Those NFTs are inspired by past champions of the tournament, including Venus Williams and Andy Roddick.
The views and opinions expressed by the author are for informational purposes only and do not constitute financial, investment, or other advice.
Business, DOGERead More