One of the most popular methods employed by crypto projects looking to go public is the issuance of cryptocurrency security tokens. Unlike initial coin offerings (ICOs), which do not grant any rights or obligations, and instead provide access to a specific network, platform, or service; tokens offered as part of an STO are financial securities backed by something tangible, such as the company's assets, profits, or revenue, which equally provide legal rights such as voting and revenue distribution.
Security token offerings (STOs) were created in response to the ICO bubble burst of 2018. As the crypto market cap fell by over $700billion, regulatory bodies began hammering towards more secure legislation for tokens. Many entrepreneurs and investors now flock to STOs due to their status as crypto tokens that pass the "Howey Test," a set of criteria that determines whether an asset qualifies as an investment contract, and would therefore be subject to U.S. securities laws.
Naturally, launching a security token involves a great resource commitment that the project may not be able to meet. typically, the best way to approach making such an offering is to launch on a security token platform (STP). With an STP, businesses can reach a wider range of potential investors, which allows them to potentially attain their funding target(s) faster. So, let's cover the best 7 STO launchpads for projects in 2022.
AlphaPoint is the white-label platform for exchanges, brokerages, and tokenization of assets. Clients can use AlphaPoint technology to digitize assets, creating tokens for virtually any asset class, including currencies and securities.
The platform's blockchain-based asset digitization technology from AlphaPoint provides clients the ability to create security tokens, cryptocurrencies, or other digital assets, easy-to-use, browser-based tokenization workflow, built-in API access to KYC and AML providers and private company shares, and a platform specifically designed to enable rapid deployment of smart contracts and token issuance.
AlphaPoint gives STO platforms a secure enterprise-grade blockchain technology to digitize previously illiquid assets and gain access to secondary markets. Moreover, the security of AlphaPoint has been tested across 35+ countries.
Having provided white-label exchange technology for digital asset and cryptocurrency markets since 2013 to over 100 clients, its technology for issuing security token offerings (STOs) also continues to mature, enabling institutions to create, issue and trade tokenized securities in a secure, private environment.
Anyone searching for a great STO platform must come across Luxembourg based Tokeny. Established in 2017, Tokeny Solutions. Tokeny Solutionz offers the best value for asset tokenization. It provides exclusive functionalities for issuing, managing, and transferring security tokens. Interestingly, the platform is suitable for investors and issuers alike, while offering favorable grounds for communication among all stakeholders. 
The other interesting functionalities included in T-REX platforms, such as investor onboarding, reporting, and token recovery process, make it interesting. On top of it, you can also find functionalities for compliance enforcement with the T-REX platform. 
The platform allows for the issuance, transfer, and management of tradable digital assets/security tokens, such as tokenized loans, structured notes, equity, and funds. They allow customers to interact securely with the blockchain without the need for them to have any technical experience.
Tokeny Solutions also deserves special mention in an asset tokenization platform list for its blockchain-based identity system, known as ONCHAINID. The identity system facilitates easier identification of investors and institutions. 
The platform has raised €10 million from its backers, Euronext, Inveniam, Apex Group, and K20 Fund. Tokeny Solutions has over 50 customers with more than 180 jurisdictions enforced. Its tokenized assets value is currently worth north of $28 billion.
TokenSoft is an STO technology platform that assists startups with token sale launches. It is a platform that provides a suite of technology and security products for token distribution support, payment of dividends, digital assets custody, and token trading via open-architecture token issuance and design features. 
TokenSoft offers KYC/AML compliance in more than 50 jurisdictions and uses the ERC-1404 standard, which is compatible with a range of other standards.
The platform supports Ethereum, Stellar, Corda, and Hyperledger. It employs a SaaS-pricing model, charging a monthly fee for post-sale management and additional fees for custody solutions.
The platform has helped create over $40bn+ in combined market cap – Building communities for projects like Avalanche, The Graph, and Tezos. So far, TokenSoft has over $30B combined market cap created, over 100 assets created, and more than $1 billion total raised with over a million active users.
Founded by Dan Doney and John Hensel, Securrency is a popular security token issuance service that's been a go-to for investors and STO projects since 2015. The platform offers the entire range of services needed for the issuance and beyond, including KYC, post-issuance token support, and full interoperability of tokens for cryptocurrency exchanges.
The core of the Securrency platform is interoperability. Tokens launched on Securrency can be transferred across many popular blockchain networks. The platform also integrates with traditional legacy financial services to provide liquidity.
Issuers can embed investor management applications to manage their investor relations without having to rely on platform-external applications. For token distribution, issuers can leverage the RegTex engine that conducts KYC checks in more than 160 countries.
Securrency uses the CAT-20 and CAT-721 token standards, which are both based on centralized rules engines. Issuers will have to pay for the enrollment and the initial tokenization. There is also an annual maintenance fee and charges for on-platform customizations and the use of applications.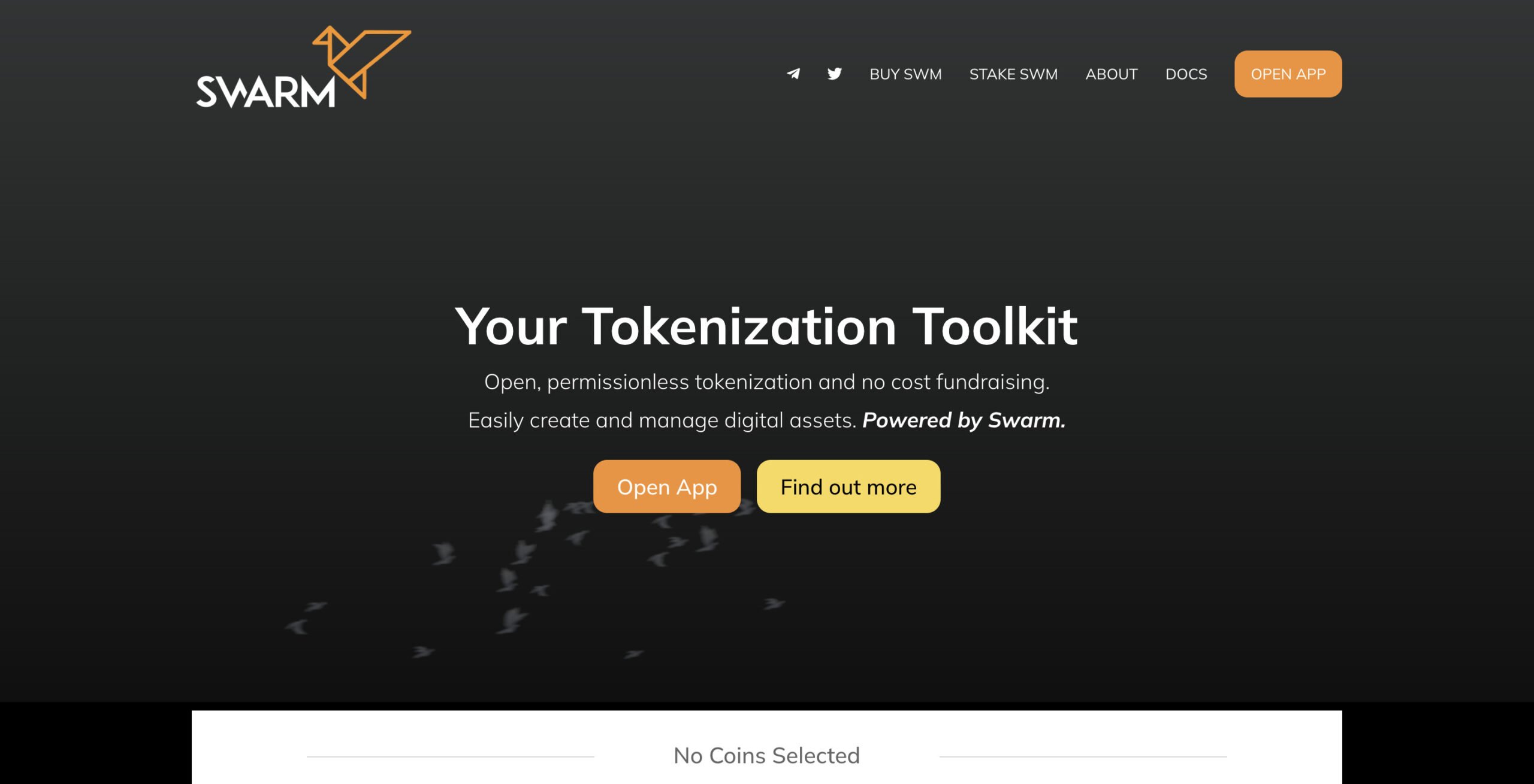 Established in 2017 by Philip Pieper, Chris Eberle, and David Drake, Swarm uses the SR20 protocol, one of the top cryptographic standards for security tokens, to help businesses tokenize their assets. After the selected object is tokenized, the platform helps make the management and trading of digital assets easy.
The platform's tokenization infrastructure is an open, full-stack solution for the life-cycle management of a Digital Securities Offering – including token creation, configuration, fundraising, issuance; and post-distribution activities such as token redemption, dividend issuance, asset governance, investor administration, reporting and communications.
It also allows existing cryptocurrencies, such as Bitcoin and XRP, to be invested and then exchanged for SR20 tokens. When people buy SR20 tokens on Swarm, they are entitled to certain ownership and governance rights.
Swarm is driven towards assisting small enterprises to realize the benefits of the blockchain industry by issuing security tokens to help them raise funds.
Securitize is a great STO platform whose primary aim is to offer an end-to-end tool for individuals and companies looking to create security tokens. The platform offers a highly flexible and super back-end to assist users in the process of issuing their securities.
Securitize's innovative Digital Securities Protocol (DS Protocol) enables seamless, fully compliant trading across multiple markets simultaneously. The Securitize platform is a proven, robust, feature-rich platform with multiple successful issuances of digital securities on the blockchain.
One of its most distinguishing features is the ability to incorporate third-party applications that operate on the Ethereum network. In addition, Securitize's Digital Securities (DS) Protocol has the highest adoption rate in the market today and provides a seamless compliant integration solution for Issuers, Investors, and Exchanges throughout the entire digital security lifecycle, from initial issuance to trading, distribution, and governance.
Having worked with 200+ issuers, Securitize is a pioneer in the digitization of private market securities on the blockchain. The platform currently ranks as one of the best security token issuance platforms globally with over 10 investors including Morgan Stanley, Blockchain Capital, and Tezos.
Topping the list is Polymath, founded in 2017 by Trevor Koverko and Chris Housser. The security token platform seeks to provide the means for companies to raise money through blockchain-based, legally compliant security token offerings (STOs).
Polymath is made up of four core layers that define the creation of tokens as well as compliance with the set operating guidelines. They are the protocol layer, application layer, legal layer, and exchange layer.
The platform's self-serve token creation and management technology integrate smoothly with a large ecosystem of custodians, broker-dealers, legal firms, cap table management providers, token sale platforms, KYC/AML providers, and others so that issuers can create a bespoke end-to-end solution.
Polymath has its own Ethereum-based token standard called ERC-1400 which combines new and existing standards with the goal of creating a unified framework for all security tokens.
STOs are not getting popular among investors for no reason. Particularly, they offer many significant benefits to investors including being safe and trustworthy, transparency, fractional ownership, global recognition, and operating in the open market among others. 
The STO Launchpads mentioned above are some of the best out there. So if you are an investor who values security and a perfect alternative to traditional investments, STOs are an attractive solution designed for you. Also, if you want to launch an STO project, you should consider any of those suggested in this piece to develop your security token. Albeit, do not treat this piece as financial advice as it is important to do your own research (DYOR) before committing to any project.
Adoption, Altcoins, DailyCoin's TOPs, zz_index, zz_top, Crypto Launchpad, Digital Asset Ecosystem, STO LaunchpadRead More