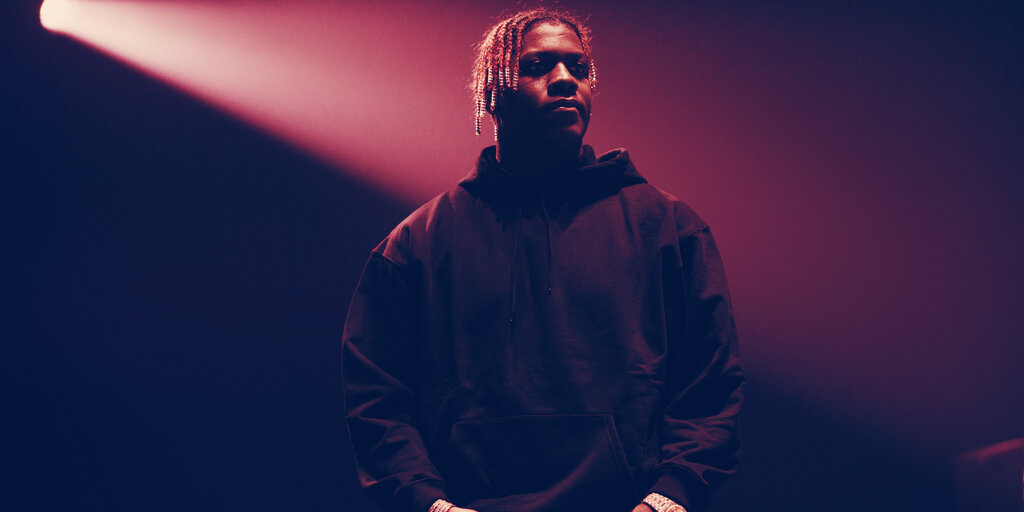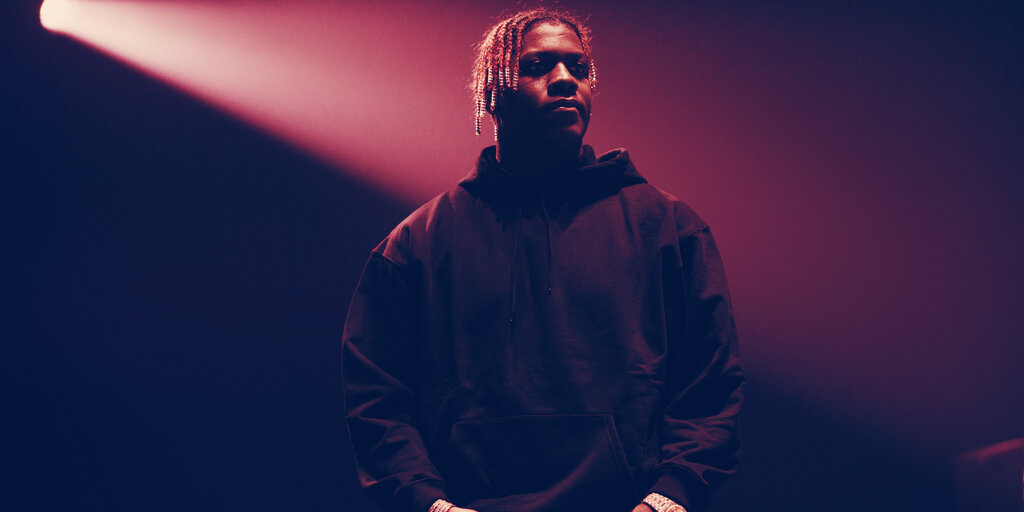 Last month, out of nowhere, the rapper Lil Yachty announced his formal entry into the world of cryptocurrency. "My lawyer is making me disclose that I'm being paid," he wrote, dropping in a "shrug" emoji before telling fans that something called "YachtyCoin" was coming soon.
It might strike you as odd, coming from an artist who's worked with the likes of Drake and Migos, and spent the past four years establishing a reputation as a sort of carefree goofball (he dubbed himself "King of the Teens," when he still was one), but spend enough time scrolling through Yachty's Twitter feed and you'll start to notice a pattern: while most musicians keep their social media carefully manicured—cultivating a brand, or a tone, and sticking with it—Lil Yachty's tweets oscillate between the general category of "random musings" and what could be charitably described as "sponsorships and brand promotion."
For all my fans outside the US, I partnered w/ @fyooz_io to make history. My lawyer is making me disclose that I'm being paid If you want to buy access to me #YachtyCoin is coming soon only on the Fyooz App #fyz https://t.co/NsIQ3AGJBd

— concrete boy boat (@lilyachty) November 18, 2020
This Jekyll and Hyde act between the shrewd professional and the lovable, irreverent kid is nothing new for Yachty; it's the dynamic on which he's built his empire, and the secret to his success in hip-hop and beyond it.
Yachty made a name for himself in 2016 with tracks like "One Night," off his debut mixtape, and "Broccoli," a collaboration with DRAM that earned him a Grammy nomination and has since gone 7X platinum. But the appeal has always been the vibe—that carefree spirit at the heart of his best work, and his most endearing antics. We saw it when he called Biggie "overrated," and told curmudgeonly hip-hop traditionalist Joe Budden to "chill." 
It's funny, but it's also just smart business: the schtick has earned him an Instagram following of almost 10 million, and a global profile that he's leveraged into partnerships with Nautica, Reebok, Axe, Rap Snacks (Lil Yachty Hot Cheese Fries, anyone?), and Ugg.
"If pop artists would go out with bags of money in a Lambo, probably the fans wouldn't really like it. In rap, that's totally OK."
Crypto Boat
Lately, though, Lil Yachty has been exploring a different sort of partnership opportunity. He told Decrypt that it was Akon—the rapper and singer turned crypto evangelist, who plans to build an entirely crypto-dependent city in rural Senegal—who personally introduced him to blockchain tech, and primed the pump for what would become the YachtyCoin venture he announced in November. 
The coins are the result of a partnership with Fyooz, a Swiss crypto company that turns celebrities like Yachty into tradable tokens on the Ethereum blockchain.
If you don't know what that means, you're not alone. The world of crypto is a long way from "Minnesota," and the vast majority of Yachty's fans probably have no idea what he's talking about, either.
As a platform, Fyooz is peddling a deliberately abstract version of an already abstract concept: these are tokens that assign direct monetary value to the idea of celebrity, rather than a proper cryptocurrency like Bitcoin, or a blockchain collectible you can toy around with online. And even if you count yourself among the sliver of people who care deeply about both cryptocurrencies and Lil Yachty, you still can't buy $YACHTY coins in the US, thanks to SEC regulations.
Despite these barriers to entry, the token's ICO generated $375,000 in just 21 minutes, as the company sold off 25% of the token's total supply. Remo Prinz, co-founder and CEO of Fyooz, told Decrypt that while he's aware the American market is somewhat wary of crypto, he's optimistic about the future. "What we're doing here is pioneer stuff," he said.
After the success of that initial drop, Fyooz approached Nifty Gateway—a marketplace for blockchain-based collectibles known as NFTs, or non-fungible tokens—with the hope of selling a YachtyCoin-themed digital artwork. Where something like Bitcoin is fungible, in that any one coin can be exchanged for another, identical coin (as with fiat currency), NFTs are one-of-one, irreproducible assets, and are often sold without a physical counterpart.
Nifty Gateway ended up auctioning off an animation of a giant, rotating coin with Lil Yachty's face on it for $16,050, after a bidding war involving one-time Zuckerberg rival Tyler Winklevoss (whose company, Gemini, acquired Nifty Gateway last year) and the EDM musician Blau.
prayers answered!!! @niftygateway rocks. so fired up this @lilyachty 1/1 #collect who's next? https://t.co/qeMKcP609a

— bill lee (@westcoastbill) December 17, 2020
Griffin Cock Foster, one of the co-founders of Nifty Gateway, told Decrypt that the partnership with Lil Yachty was a no-brainer. "Our mission has always been to get 1 billion people collecting NFTs," he said. "And we see partnerships like this as the key to doing it."
It makes sense, from a business perspective; a Lil Yachty-branded cryptocurrency feels like a far cry from Yachty-branded snacks, or Yachty-branded clothes, but there's a clear monetary upside for both Yachty and the companies he's partnered with.
Why Does Hip-Hop Like Crypto?
What's harder to pin down is the broader cultural relationship between hip-hop and crypto. 50 Cent was, at one point, a Bitcoin millionaire; the late Nipsey Hussle was an ambassador for Follow Coin; DJ Khaled promoted an ICO with boxer Floyd Mayweather; Ghostface Killah helped launch a crypto firm called Cream Capital; MF Doom released a collection of NFTs modeled after his signature mask; Ja Rule (who, it should be noted, isn't exactly known for his business acumen) partnered with the crypto startup Roll, and Lil B released an insane promotional track for the same company called "Social Money (On A Roll)."

Just last week, Megan Thee Stallion partnered with Cash App—part of the crypto-friendly payments company Square—to give out Bitcoin to Twitter users via the hashtag #BITCOINMEG.

"Rap is very subversive. And crypto also thinks of itself as very subversive, and against the system."

The connection extends to lyrics, too. Soulja Boy has a song called "Bitcoin," and artists like Bladee and Eminem have mentioned the asset in their music. One of the more inspired Bitcoin rhymes comes from Action Bronson, on the remix of Freddie Gibbs and Madlib's "Knicks": "I'm like Christopher Lloyd, Big Noyd / Bitcoins, rosemary on the strip loin." And Detroit's TeeJayx6, who pioneered the "scam rap" microgenre last year, has bragged about using Bitcoin to commit crimes.

Remo Prinz told Decrypt that working with rappers like Yachty makes a kind of intuitive sense. "Rappers are obviously open [to] making money," he said. "These guys can rap about it and fans don't care, while if pop artists would go out with bags of money in a Lambo, probably the fans wouldn't really like it. In rap, that's totally OK. So, obviously that fits in with the crypto space."

Cock Foster suggested that rap's anti-establishment roots dovetailed nicely with the idea of a decentralized economy: "Rap is very subversive," he said. "And crypto also thinks of itself as very subversive, and against the system. Crypto has so much power to empower individuals, whereas right now, the power mostly exists with bigger corporations."

What's good for tech startups isn't always good for artists, but in a 2018 interview with XXL, Nipsey Hussle said that the relationship between hip-hop and crypto has the potential to work the other way, too, giving a certain measure of power back to the community: "The hip-hop culture shouldn't be left out like we always are," he said. "Our influence is leveraged, but we're always left out until it's too late. That's why I thought it was important to be involved as an entrepreneur and to be vocal and bring it to the hip-hop consciousness, so that people who have resources and assets available can participate."

Asked on a podcast if he could describe Bitcoin in 10 words or less, Lil B riffed on that connection in characteristically blunt terms. "It's the streets, man," he said, evoking a kinship that goes beyond brand partnerships and sponsorship opportunities. "It's the hood."

In an essay for Pitchfork, music critic Sheldon Pearce suggested that the seemingly disparate spheres of crypto and hip-hop are actually quite well matched. Crypto is "in need of powerful voices to shout its praises and downplay its uncertainties," he wrote, "and rappers never stop looking for ways to build fortunes."

This is the reading that feels most in line with Lil Yachty's foray into crypto. Yachty's team insisted on doing our interview over email, and the answers they sent back felt somewhat opaque—very much in the entrepreneurial mode of the rapper's sponsored tweets. "I'm learning more about


Warning: array_key_exists(): The first argument should be either a string or an integer in /home/forge/coinspectator.com/public/wp-content/plugins/cryptowp/functions/template-functions.php on line 129

Warning: array_key_exists(): The first argument should be either a string or an integer in /home/forge/coinspectator.com/public/wp-content/plugins/cryptowp/functions/template-functions.php on line 129


everyday," he wrote. "I was first introduced with Bitcoin and took a small break when my career took off. I've recently gotten back into it and been much more interested."

That interest may stem from a place of genuine curiosity, but it doesn't hurt that these crypto partnerships are turning out to be an effective way to make some quick cash. It's also a perfect pandemic-era business move: a revenue stream that doesn't require in-person promotion, and that can coast on the Covid-fueled Bitcoin boom.

I also tried to get in touch with Dre London (who manages Post Malone) for this story, since Fyooz recently said he was coming on board as an "advisor," but a spokesperson for Fyooz told me it would have to wait. "He said give him time to learn more because he doesn't understand it yet lol," read one email.

Lil Yachty is far from the first artist to get into the crypto space, and he won't be the last, but he's hit a sweet spot that's eluded plenty of less savvy rappers. DJ Khaled was fined by the SEC for what the regulator alleged was an illegal promotion scheme, as was T.I. And Ghostface's affiliation with Cream Capital turned out to be fruitless.

Fans and critics may keep rolling their eyes at the prospect of cryptocurrencies infiltrating hip-hop, but it's far from a one-time gimmick.

As long as startups have money to spend, artists like Yachty probably aren't too worried about the stigma.

Long ReadsRead More